About the author
"Yesterday I was 20". It has been 16 winters I entonnais the Charles Aznavour song out of the University of Western Brittany, where I pursued my master's studies in economics to catch up with the IAE in Rennes Dess Marketing. Out of curiosity, itching of writing, I became a journalist. Today, I work for the business daily La Tribune (of which I am one of the corresponding region) and very regularly to the monthly Enterprise . In parallel, I teach social studies, marketing and general culture in an institute preparation of Brest. I committed a crime novel, with Arnaud Morvan, in 2000, "Hangman Brest", which was a resounding success with the public. And I'm about to recur between two stories to my daughters. I started this blog to transmett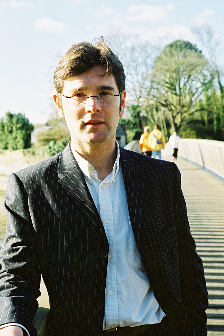 re both knowledge and opinions, are the basis of each other. "The past is a preamble," wrote Ernest Renan. Either. Then open the most life pages.
Contact me if need be, my email address: mcabon@gmail.com
- On Twitter: www.twitter.com/LOBBYCRATIE
- Skype: mikael.cabon
This blog received 2,664 unique visitors per 8138 page views in March 2010. Source: Google Analytics. It is independent of any external funding, for example through advertising or sponsored posts. But you can still participate in financing the costs of accommodation, even symbolically in the form of one euro from this secure payment page Paypal.